POEMA ESR Day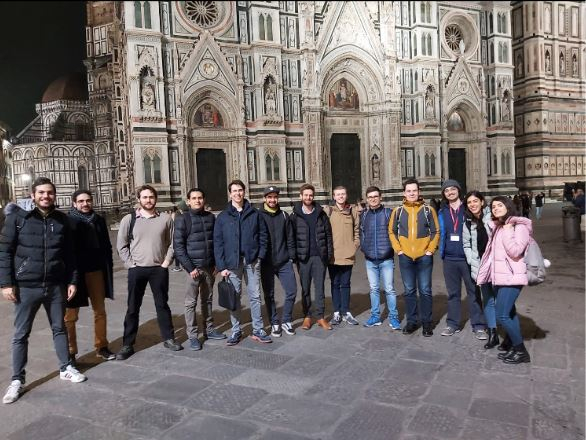 Category
Project Workshops
Date
2020-10-15
09:00
-
2020-10-16
17:00
Venue
Science Park 123, 1098 XG Amsterdam, the Netherlands

Purpose of the event
The POEMA ESR researchers organize a two-day workshop, open to the 15 ESR's of the POEMA consortium. The goal is to foster collaboration among the ESR researchers, who have had less opportunities to meet so far due to the outbreak of Covid-19. The objective is to offer a forum where participants can present their work, discuss problems, and share tools, tricks and tips to enhance their scientific toolbox. It is hoped that through this event the POEMA researchers can find connections between their respective topics or at the very least cast them in a new light.
These ESR Days offer a follow-up to a series of online seminars initiated by the ESR's in spring 2020. 
---
Venue
The ESR collaboration workshop will be organized at:
Centrum Wiskunde & Informatica (CWI)
Science Park 123, 1098 XG Amsterdam, the Netherlands
---
Agenda
The workshop will take place on October 15-16 2020.
The framework of the meeting is as follows. Participants will give a short talk of 25 min., where they present a research problem or paradigm in their current work, and this will serve as a basis for discussions in small groups. The primary goal is that other ESRs identify similarities in their work and are inspired by the problems of their peers. The secondary goal is that ESRs learn of the skill set of their peers and hence know whom to consult when facing problems beyond their own expertise. The detailed program will be decided later.
---
Organization
Monique Laurent

This email address is being protected from spambots. You need JavaScript enabled to view it.

Andries Steenkamp (Contact person):

This email address is being protected from spambots. You need JavaScript enabled to view it.

Luis Vargas (Contact person):

This email address is being protected from spambots. You need JavaScript enabled to view it.
---
Getting to Amsterdam from Schiphol Airport
Train: NS (Dutch Railways) train from Schiphol Airport to Amsterdam Central (single €5.50 including €1 surcharge for a disposable ticket, 15-20 mins).
Train + Metro: NS train from Schiphol to Amsterdam Zuid (single €4.00 including €1 surcharge, 7 mins) where you can connect onto the metro (single from €3.20).
Bus: Amsterdam Airport Express Bus 397 (Connexxion-RNet) from Schiphol Plaza to Amsterdam Elandsgracht (single €6.50, open return €11.25, 30 mins). Also, GVB bus 69 Schiphol to Amsterdam Sloterdijk (single €3.20, 40 mins). Note neither bus goes to Amsterdam Central.

Shuttle bus: Schiphol Hotel Shuttle bus (Connexxion) takes you directly to your hotel (single €18.50, return €29.50, 30-45 mins).

 Taxi: Standard metered fare will be €45-€50 to central Amsterdam; fixed fare discounts offered by some companies.

 Uber: Ride-hailing app Uber is present in Amsterdam and airport-city transfers cost €40-€60 (Uber Black) and around €30 (UberX).
How to reach CWI by public transport - Read here 
---
Accommodation
All Dates
From

2020-10-15

09:00

to

2020-10-16

17:00