POEMA Industrial Workshop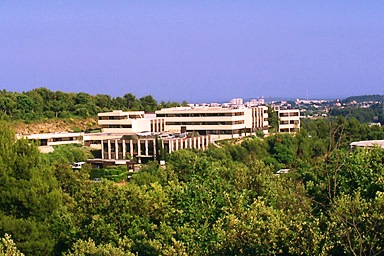 Category
Project Workshops
Date
2021-12-13
14:00
-
2021-12-17
12:00
Venue
Inria d'Université Côte d'Azur - Inria Sophia Antipolis

Email
This email address is being protected from spambots. You need JavaScript enabled to view it.
Introduction
The event of POEMA Industrial Workshop will expose the ESRs to approaches and problems from the private sector and allow them to develop further interactions with practical applications. The workshop will also include presentations by the industrial partners of their activities, and of application challenges they encounter. The industrial training will be oriented towards solving practical problems using polynomial optimization tools and the ESRs can acquire hands-on experience with the software.
The event will be organized from Monday 13 December 2021 (afternoon) to Friday 17 December 2021 (noon).
---
Organizer
The POEMA Industrial Workshop will be organized by
The scientific coordinator of POEMA project is  Bernard Mourrain - Inria Université Côte d'Azur
The admin contacts of the workshop is Linh Nguyen - Inria Université Côte d'Azur (This email address is being protected from spambots. You need JavaScript enabled to view it.)
---
Venue
The POEMA Industrial Workshop will be organized at: 
Inria d'Université Côte d'Azur (Kahn Building - K1-K3)

Address : 2004 Route des Lucioles, 06902 Valbonne, France

---
Registration



The event is free but with limited places. Please register to join us if only you can come to Sophia Antipolis, France !
The event will be broadcasted online at: https://uni-konstanz.webex.com/uni-konstanz/j.php?MTID=m7e76df2939bc23febe56b75559fea0f6 You can connect this link to join us !
---
Presentations and Tutorials


You can find HERE all the tutorials and presentations of the speakers during this event.
---
Agenda
---
Travel to Sophia Antipolis

Transportation from Nice Airport
 Transportation from Antibes train station (TGV/Thalys station):
 Transportation from Antibes old town:
---
Accommodation

Hotels in Sophia Antipolis (from Nice Airport, you can take bus 230 to go to Sophia Antipolis)

 Hotels in Antibes (10km from Inria - can reach Sophia Antipolis by bus A and bus 9)
 (from Nice Airport, you can go to Nice Saint-Augustin train station by walking or taking a tram (see more) then take train TER from Nice Saint-Augustin to Antibes)
All Dates
From

2021-12-13

14:00

to

2021-12-17

12:00